Who we are
Malayali News Live is a rapidly growing online news portal striving for truthful and righteous journalism. In every way , Malayali News Live is aware of the fact that the face of journalism is undergoing constant changes irrespective of electronic , print or online media. We can assure you that our stories will not have political inclination and they will be presented in an unbiased manner. Our aim is to promote patriotism and national interests.
Our objective is to provide :1) Information 2) Education 3) Entertainment 4) Persuasion for good cause 5) Surveillance 6) Socialization 7)Interpretation and 8) Linkage.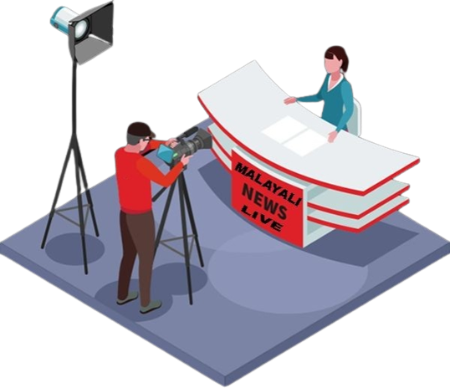 In a democratic society , the media is a fundamental tool to political life. It presents the facts and allows the citizen to have a better understanding about the issues happening around them. In India , the media which is well acclaimed as the fourth pillar of the constitution reveals the corruption, nepotism and the wrongdoings of the other three pillars such as Legislature, Executive and Judiciary. Media also promotes criticism and debates to ensure that the information is tested and scrutinized from every perspective.
What we do
Malayali News Live disseminates news topics including politics , current affairs , management and policy matters , trade and industry , business etc. We give utmost importance to social issues and promote citizen journalism. In an era where news and facts are twisted and interpreted for personal benefits and biased interests , we assure you to present authentic and legitimate news.
Our Team
K.P. Kailasanath – Chairman and Managing Director
Senior journalist with experience of more than 25 years. Worked as Chief reporter of Kerala kaumudi and Trivandrum bureau chief of Kerala kaumudi Flash. Worked as Output Editor of Janam TV. Graduated in mathematics and statistics.PG Diploma in journalism from Bharatiya Vidya Bhavan
Manoj Kumar. M – Director, Operations
Completed BA History from Calicut University . He has over 20 years of experience in media industry such as Janmabhumi & Kalakaumudi Asianet , India Vision , Amrutha satelite channels Marunadan Malayali and Log in Kerala, online portals
Adv. G.Arun – Director
Completed LLB (1994 -99) and Master of Business Law (2000 -2002) from Law Academy Trivandrum . Advocate at dist court Vanchiyoor Trivandrum
Sidharth Siva – Director – BBA student
Reach Us
If you need to send articles to us or get in touch with us and do reach us to our emails which are listed below:
Email: malayalinewslive2022@gmail.com, desk@malayalinewslive.com